Hi guys!!
Well isnt it funny how after just posting that 'Im back' and all that, i disappear for another 10 days?! Lol! What happened was my stupid net quota ran out (yes, i have a net quota. Thus is the life of a poor student) and i had to wait for it to renew for the next month and stuff. It meant i had no net at all for 8 days, which aaaaaaaaaaaaaaalmost made me go batshit crazy. Almost. *eyetwitch*
Anyway, im back with a bang this time lol, cause i just happened to finish this piece today. :D Its a pair of ickle Green Avadavats on a twig. These are a type of munia (small finch shaped thing) that are in the pet trade and are listed as vulnerable because of it. This is for a competition over on DeviantArt, but im selling it as a print too on the extremely slim offchance that someone loves it THAT much. Re: poor student. :P
Preview: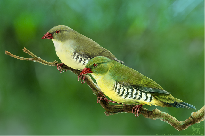 Clickie below for info on how i made it and to see it itself. Obviously. Ahem.
( Read more... )
Click
HERE
to view what items you can buy this as a print. Theres everything from coffee mugs to canvas prints. :D
Thanks!
tam
x